Thomas och Monas (Children of Prisoners) travel blog from Uganda
Our prayer before we left for Uganda was that, during the week or so we were to spend there, we would be able to reach out to as many people as possible, that God would help us get in touch with prisoners on death row, the Archbishop, and many others. We asked the Lord to use us, to help us to administer the trust wisely and to touch people's hearts, to help them understand the suffering to which children of parents on death row are wrongfully subjected and that those children are also treasures in God's kingdom.
Before we left, we were slightly worried about whether we would actually be able to get in touch with all those we wanted to meet and whether the prison gates would actually be opened to us. Shamret prayed for us the week before we left and said that "the Holy Spirit will open all doors and gates". Thomas and I felt that God had actually been down here on earth preparing everything for us. Read our travel report and I think you'll understand what we mean …
We left Sweden on Saturday 21 February, directly after having waved off our beloved son Gabriel, who was travelling to Latvia with Tjebbo & co. Having arrived in Uganda, we went through the week's agenda with our contact, Ronald Katongole. We realised there and then that we had been almost impossibly overoptimistic in trying to cram in as much as possible. But Thomas insisted that God would probably bless the hours in a way we didn't understand. "We'll manage to get everything done", he said calmly.
On Monday morning, we woke up to our first challenge: arranging a visitor's permit for Luzira prison. I (Mona) already had a general visitor's permit to visit all prisons in Uganda. But it can be a bit tricky for foreigners to get into Luzira Maximum Security prison. Now we had to get a visitor's permit for Thomas, who had not even applied for one… (We were supposed to have done so 6 months before the visit!). The week before we left, I received an email from the director-general of Uganda's prisons. He wanted to meet us. Once in his office, we got the opportunity to tell him about our almost 10 year mission in Uganda. I'll probably never really understand how we did it, but suddenly we were shaking hands and we had a classified visitor's permit for both Mr and Mrs Kassarp! Amen
Afterwards, we quickly proceeded to the Mission After Custody (an organisation that works with former convicts), where we were due to meet their founder, Morris, who works closely with the Archbishop. Morris told us that, unfortunately, we now had to take the formal route via the Archbishop's secretary. Morris came with us and we made a formal application to meet the Archbishop during the week. Okay, I thought. Let's see how this goes …
Before the day had ended, we also managed to meet a good old friend of ours, Moses, and paid a visit to Edward Mpagi at his home, a man who survived 20 years in prison. He was sentenced to death in 1982 for a crime of which he was innocent. Are there really innocent people who are sentenced to death? Yes, I know there are, because the man he claimed to have murdered was still alive! Edward's testimony should be listened to again and again. He was designated for execution on a number of occasions, but only the Lord can intervene to save a person's life in this way time and time again. When Edward was finally pardoned, he wanted to do something to help children whose parents are in prison. Children are the ones who are punished severely when their parents end up in jail, and Edward felt that being a parent in prison was by far the most difficult part of the experience. "The powerlessness to understand that your child is suffering and an inability to help them was the toughest part of the punishment", Edward usually says. He wanted to be able to offer these children a roof over their heads and an education, so he decided to build a boarding school. This is one of the things Children of Prisoners does. We are helping Edward Mpagi to finish building a school for these children.
On Tuesday, it was finally time to visit the prison. The prisoners on death row receive visitors in a separate wing. I have visited death row a number of times and each time I'm fascinated (just as Thomas was now) by the presence of God among the prisoners. We sang worship songs and praised the Lord together. You don't croon shyly, you celebrate and dance joyfully. Thomas shared the word of God with them and I talked as I always do about their role as a father and how important they are to their children. It's easy to believe that it's depressing and sad to visit people who are literally in "death's waiting room". They never know the date when they may be executed. Today could very well be their last. But many prisoners on death row have testified that the death sentence has often been their blessing. They often share with us how miserable the lives were before they were imprisoned. The rarely get visitors in prison. Often, it is only Christians that voluntarily visit Ben and preach the gospel. Many of them hear about Jesus for the first time. Many of them are saved and dare to believe in forgiveness of their sins. I love their T-shirts which bear the words: "We no longer fear death. We have eternal life in Christ."
We spent the afternoon in another part of the prison: the unit for prisoners with life and long-term prisoners. The prison was built for 1,200 people, but housed over 3,500 prisoners the day we were there. It was cramped. It was dirty. It smelled bad, but the joy and warm reception we always receive makes the prison a place you can happily want to return to. Praying together with them, getting the opportunity to give them a gleam of hope and simply being able to spend time with them is a calling God has placed in Thomas' and my heart, and the joy we felt when we got the opportunity to serve the Lord was so strong, so real.
On the way home, we went on a long walk to digest all of the impressions of the day. We suddenly heard sweet worship songs from a church and sneaked in. What beautiful worship songs! When the sermon began, we realized that our knowledge of the Luganda language was virtually non-existent, and we decided to leave. Before we left, Thomas had an impulse to go up to a man and bless him. We then continued our evening walk. After a while, we were stopped by the man from the church. He had come running after us. He asked if anyone had seen two muzungus (white people) and in which direction we had disappeared. "Have you been saved?", he wondered? "Oh good, then perhaps it was for another reason I felt that the Holy Spirit was encouraging me to look for you." He wondered why we were in Uganda and whether he could help us in any way. When we told them about our work at Children of Prisoners and that we wanted to reach out to as many people as possible with God's love to those "invisible and innocent victims of the justice system", i.e. the children of the prisoners, his face lit up. "I know", he said. "I can arrange for us to talk on Top Radio, a Christian radio channel. Would Saturday be okay?"
We headed off early on Wednesday. We had to find and visit the office for prison chaplains and have lunch with them. We also needed to buy some toothbrushes, toothpaste, soap, shampoo, sanitary towels, etc. on the way to the women's prison. New detainees and women on death row crowded around behind the gates. Susan Kigula, a woman I've been in contact with for many years, was already standing at the gate waiting impatiently. Inside the prison, the women have beautifully decorated and erected a small altar. The women told us that they have been looking forward to our visit. When we had finished singing worship songs, Susan Kigula took me aside. She wanted to talk undisturbed about her upcoming release in January 2016. She had been dreaming of being free for around 15 years but, at the same time, her release also caused her a great deal of worry and fear. She wanted me to be there with her the day she's freed. She wanted someone with her when she and her daughter eat their first dinner together. She wanted me to show her how a mobile telephone works. We laughed, we cried, we thanked God for our friendship. Susan Kigula murdered another human being. The world has judged her harshly. Jesus has forgiven her. She's one of the most beautiful souls I've ever met.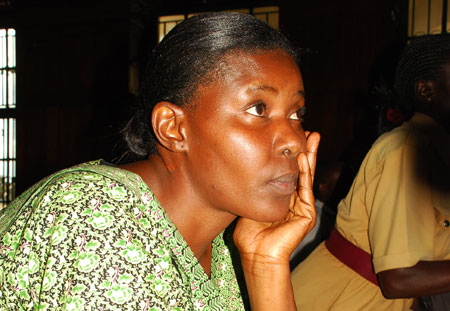 I suddenly realised that I had left Thomas completely alone. "A good man can take care of himself" and now he also had God with him … He had just finished his sermon, a weighty subject with a strong message of love: the love a child feels for its mother, but also the bitterness and sorrow he himself experienced when his own mother abandoned him. How his hate and bitterness was actually an expression for the motherly love he so strongly yearned for, but never received. How unloved he felt and why it is so important that, as mothers, they do all they can for their children, even though they are in prison. His words went straight to the hearts of the mothers. These mothers bear so much shame and guilt. I don't know anyone else who can talk about this sorrow in such a non-judgemental way as Thomas can.
I take over and after the tears have stopped running down everyone's cheeks, we start almost joking about why I obstinately come back, year after year. Because the prison walls are so impressive? Because it's so nice in the jail cell? For the pleasant air? No! I want the women to really understand that everything is about the love I feel for them, that God has called us to make prisoners free, because we want to share the message of the gospel with them and because they actually have every right to feel loved. It was a wonderful and truly blessed day together. On the way home, we managed to arrange a meeting with the radio people and we planned the program over dinner.
On Thursday, I woke up feeling very ill. I had to visit the toilet every few minutes. I had no energy. I couldn't retain any water. This did not bode well. We had a car journey of at least 45 minutes ahead of us, and a visit to the market beforehand to buy rice, beans, corn, oil, etc. for the school in Kasenge. I considered staying at home, but Thomas thought differently. He put his hands on my stomach and prayed for healing, NOW. Suddenly it happened. I immediately felt my energy returning and my stomach calming down. We then got resolutely into the awaiting car and spend the whole day care-free at the school for children of parents on death row. We also brought food, computers, clothes, shoes, bookmarks and BUBBLE BATH! The children chatted and laughed.They like the computers, but the bubble bath was best!
On the way back, Thomas says that we should trust Shamret's words that "the Holy Spirit will open all doors". The Archbishop's secretary had still not contacted us. We stood at the cathedral. We went in. We trudged around. We started to pray. Suddenly, Thomas had a strong impulse (again!) to walk up to a man at a parking lot. In his usual manner, Thomas walked up to him and asked him whether it was possible to hook up with the Archbishop. It turned out that that man had just spoken to the Archbishop on the telephone, and that he had been asked to pick him up for a meeting. He looked at us, and said smiling "Follow me, come". And a few minutes later we were sitting on a cosy sofa talking to the Archbishop, without the secretary's help (i.e. the only person who we thought was able to arrange a meeting with the Archbishop). There is a lot that is impossible for people, but not for God. We had prayed to meet the Archbishop, and this is what happened. Ronald Katongole had some difficulty believing us when we turned up at the car again. When he saw the photo we had taken, he shook his head and wondered how on earth we had got in, without any security clearance!
In the evening, we were due to have dinner with pastor Derek and he also drew the conclusion that God truly must have been there preparing everything in our path.
Friday: When we visited Luzira prison on Tuesday, we met Patrick. We've met him previously over the years. The first time I met Patrick, I was very angry with him. He told me that he had a son, but Patrick thought that it was best that the two of them had no contact at all. "I'm still going to be executed soon", he said coldly. I thought he was weak and self-righteous. He didn't like hearing that. No prison wall can stop love the love that exists between a parent and a child. Behind the hard surface, there's a crying heart of a mother or father filled with shame and guilt. Over the years, Patrick's hard surface has also softened. When we met now, he pleaded "Please can we try and find my son?" Why, I wondered, being deliberately demanding. "I want him to know that I love him", answered Patrick, silently and humbly. We really had no time for this, but both Thomas and I felt that we would definitely give it a go. So, on the way home from a visit to Bulabakulu (a children's village we were involved in building a few years ago), we decided to try and find his son Crispus. We searched, we drove the wrong way, we made enquiries, and by the afternoon we had finally found the boarding school where his son was supposed to be living. Crispus was very surprised when he was asked to go to the headteacher's room. He didn't know who we were. When we told him his father had sent us all the way from Kampala to say "Your daddy loves you. He prays for you every day. He's so sad about all the suffering you've had to endure", Crispus just looked at us and seem to find it difficult to understand what we had said. We told him his father had a photograph of him inside his pocket, next to his heart, on his prison overall. When Thomas hugged Crispus and explained that it was the hug his father wanted to give him, the tears came. Thomas held him in his arms and just comforted him with fatherly warmth and love, something he had been longing for for so many years.
Crispus is 17. He hasn't seen his father for 12 years, not since his father went to jail. He told us how his grandfather, who was the chief in the village, had forbidden everyone in the village from helping him. His father had brought shame over the entire family, and little Crispus was considered a constant reminder of the terrible thing that had happened. Crispus also told us how, hungry and crying, he had pleaded to be let into his grandfather's house, or a house of a neighbour or one of his relatives. But the answer was no. He had to look for a new house in another village at the age of five. He told us that during these 12 years he often wondered whether his father even remembered him, whether he ever thought of him, whether he was even alive. Having to convey this message of love, from a father to his son, was probably our strongest experience throughout the whole Uganda trip. The chaplain was also very touched by this. He said that it looked as if "the boy had suddenly been healed on the inside". Crispus then wrote a loving letter to his father. We've now arranged with people there to set up a meeting between father and son.
(Patrick's death penalty was recently converted to a life sentence. He has a maximum of 7.5 years to serve. In the best case scenario, he'll be free in two years)
On Saturday, it was time for us to go to the radio studio. We were a bit nervous. I started by saying why we at Children of Prisoners take care of children of parents on death row and encouraged Ugandans to think about why it appears to be acceptable to openly condemn these children. Losing a parent is in itself an enormous sorrow and loss for a child. To be subjected to open disdain for a crime one of your parents has committed is not right. The child is innocent of that act. The child has not chosen his or her parent, but most children love their parents nonetheless. Many children of parents on death row (like Crispus) are abandoned and many are recruited as child soldiers, end up on the streets, or are sold into prostitution. Children of Prisoners wants to pass on the good message to them. We encourage their parents in prison to continue to pass on their love to the children and pray for them in spite of the circumstances. We build bridges between parents in prison and their children.
Thomas then preached about Jesus and the children. Would Jesus also have condemned these children? Not a chance! If Jesus didn't, shouldn't we also take these children in our arms and fill them with love and hope? Building Jesus's body is about not letting our own prejudices exclude anyone. These children are precious treasures in the eyes of the Lord. A very strong sermon which got people to call in and say they were very moved. The Ugandans asked us how they can best support the work Children of Prisoners does for these children. They prayed for us and blessed us. We felt that the message really hit home! We prayed before we left that our message would reach many people. After the program, we found out that around 6 million people had listened to our program "Building the body of Christ"!! God hears prayers. Amen!
This is just a selection of the events we were involved in during our week-long trip. The plan was to write a brief travel report, not a book.
As mentioned previously, God really blessed every hour of our trip. Even though we had a full schedule from the start, God managed to fit in more, but without us even once feeling that we were working under stressful conditions or against the clock. It felt as if everything had been prepared in advance, and Shamret's words were truly fitting: "Be strong in your belief and prayers. The Holy Spirit will open all doors and gates for you."
A big and heartfelt thank you to everyone who has prayed for us and Gabriel!
For further information about Children of Prisoners, see: www.childrenofprisoners.se